Construction
Come away in...
This super-speed walk-through was recorded in January 2019. It takes you on a tour around the front, side and rear of the building before going inside. This is provides you with a rare glimpse of how Bertha Park High School looks internally.
The story of the build
In 2013, Perth and Kinross Council accepted funding from the Scottish Government's Schools for the Future (SFT) initiative for a new secondary school in Perth.The school is being built by Robertson Construction.
Costing £32 million, the project is uncommon in the current Scottish schools programme as it isn't a replacement for an existing school, it is an entirely new building to serve the growing population of Perth, and having a blank canvas with no previous school to replicate in any way, has allowed the design team to produce a highly distinctive school building.
The school is accommodated within one large wedge-shaped structure measuring over 100m-long, which is 70m-wide at the northern end with both of the main elevations tapering inwards so the southern end is slightly narrower at 40m-wide.
The ground floor of the project contains the classrooms around much of the perimeter, with the western elevation also accommodating a sports hall, a smaller games hall and a gym. The middle of the ground floor features the amphitheatre, breakout spaces and dining areas, all of which form the central open-plan spine of the school. These zones are spanned by bridges, giving access across the void, and are topped with a roof featuring roof-lights allowing plenty of natural daylight to penetrate the building's interior.
The school provides well-designed spaces, both internally and externally, that produce and encourage opportunities for positive social interaction for all age groups, both within the formal school setting and in the public environment.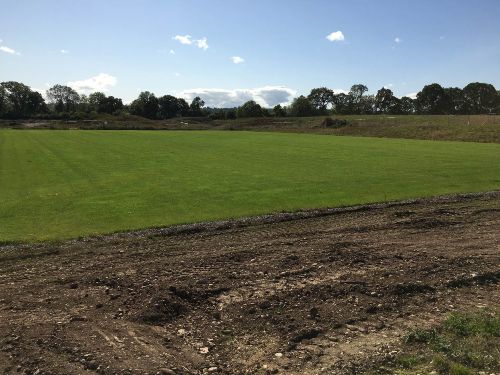 It is an inclusive design and addresses the access needs of children and adults that may require additional support. The new school is a barrier-free environment, ensuring full access for the integration of learners and other users.
This requirement goes beyond merely providing access and toilets for wheelchair users, but will address the needs of the hearing and visually impaired, and the provision of accommodation for teaching areas appropriately sized to accommodate students with special mobility and equipment needs.
As well as the main school building, the project also includes the construction of an energy centre, car parking, and sports pitches including a 3G all-weather pitch.
Our thanks to Erin Veitch and Stuart Sutherland for their photography skills - both feature in our photo gallery.